Division of H.R.D. Corporation
Low Molecular Weight Polyethylene Waxes

| | | | |
| --- | --- | --- | --- |
| Plant | Mailing Address | Telephone | Fax |
| 14549 Minetta | PO Drawer 450267 | 713-721-9131 | 713-726-9885 |
| Houston, TX 77035 | Houston, TX 77245 | 800-Marcus1 | |
| U.S.A | U.S.A | 800-627-2871 | |
Marcus Oil & Chemical, a division of HRD Corporation (a privately held corporation owned by Abbas and Aziz Hassan), was formed in 1987 for the sole purpose of producing linear, low molecular weight polyethylene waxes, with high melt points.  The production facility, located in Houston, Texas, at 14549 Minetta Street, was retrofitted from a new existing plant for this express purpose, utilizing high density polyethylene wax from the Ziegler process.

Dedicated tankers are used to truck the molten feedstock from petrochemical plants on the Gulf Coast and other domestic and international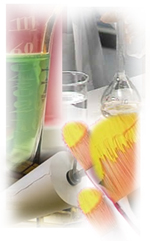 sources to the Marcus facility where it is refined into several grades of PE wax.  It is then shipped in molten state, or accudroped and shipped in a variety of packaging styles, e.g. pastille, powder, micronized and flake form.  The processing unit includes a drum flaker as well as six accudrop belts (60″ wide and 88'long).  The plant operates seven days per week, 24 hours per day.  Annual capacity is in excess of 250 million pounds.
Marcus Oil & Chemical storage and shipping warehouses are located in Houston, Texas, near major Interstates and 10 miles from the Port of Houston. Shipments from this facility are destined not only for North American points but also worldwide destinations.
Marcus Oil collaborates with Marcus Oil & Chemicals Pvt. Ltd. located in Haldia India (see Haldia Polyethylene Wax Refining Plant for more information). Marcus Oil & Chemicals Pvt. Ltd. is privately owned by Abbas and Aziz Hassan. Having multiple feedstock supplies under long term contract combined with multiple wax refining plant locations assures reliability of supply for our customers.
In 2016 Abbas and Aziz Hassan purchased the patents and patent application portfolio (Patent Portfolio) from HRD Corp. The Patent Portfolio spans a wide range of industries, applications, methods, designs and systems. Abbas and Aziz Hassan along with other listed inventors including Dr, Rayford Anthony and Mr.Gregory Borsinger have been researching and patenting new and embryonic technologies and applications with the goal of rapid commercialization. As of March 2017 there were a total of 421 patents allowed/granted (301 International and 120 US Patents).
Much of Patent Portfolio was derived by sponsored cooperative research and development agreements with partners from both industry and academia (all rights reverting to Abbas and Aziz Hassan). The agreements provides a business and intellectual property framework that allows technology transfer with a goal of speeding technology migration from the laboratory to industry.
The patent portfolio owned by Abbas and Aziz Hassan includes patents in the following areas:
Medical related patents (i.e. application of therapeutic gases and/or liquids; novel drug delivery methods …) that may have application in treating a variety of diseases including  various cancers, Alzheimer's disease and Parkinson's.
Enhancing various chemical processes (i.e. hydrogenation; hydrodesulfurization, amidization….) where among other benefits, hydrogenation was achieved under conditions not previously observed resulting in significant reductions in harmful trans-fats and fats are stabilized using inert gases vs chemicals.
 Enhancing environmental processes such as sequestering of CO2 and growth of oil bearing algae where evaluations were conducted at The University of Texas Bioproducts and Bioenergy Analytical Service Center and where among other benefits biomass concentration was increased by 95% and cell lysing efficiency of 85% was achieved.
Enhanced means of combustion where evaluations were conducted at the University of Houston to reduce diesel engine emissions and increase fuel efficiency.
Various patents related to wax and wax applications (i.e. repulpable wax; production of micronized wax; oxidation of wax…).
A partial list of existing US patents owned by Abbas and Aziz Hassan can be found HERE. There are also many pending patent applications including obtaining helium-3 from helium-4 where analytical support was obtained from Department of Earth and Environmental Sciences at the University of Rochester and methane to liquids conversion testing done at University of Houston Department of Chemical Engineering.